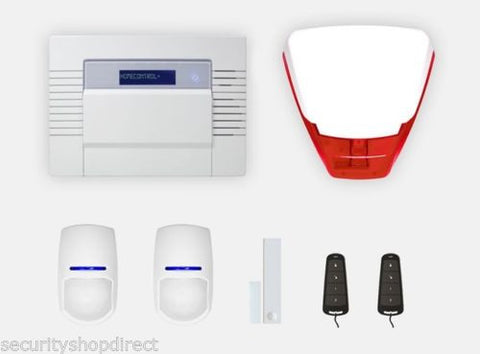 ENFAPP/KIT1 Kit Wireless Enforcer App Kit 1
The pack includes two keyfobs, a door contact, a sounder module, two PIR detectors and of course the Enforcer HomeControl+ Panel, to give you the basis for your two-way wireless Enforcer security system. 
Use the HomeControl+ App available on iOS and Android smart devices to control your Enforcer HomeControl+ system from anywhere in the world using secure IP connections.
The PyronixCloud (www.pyronixcloud.com) allows you to register your Enforcer HomeControl+ Panel and control the permissions of your HomeControl+ App users.
- Enforcer
home app Wireless Kit
- Includes: Enforcer control panel (ENF32GB-WE), 2 x Enforcer Pet immune PIRs (KX10DP-WE), Enforcer door contact (MC1 MINI-WE) 2 x keyfobs (KF4-WE) and a Deltabell Module (DELTAMOD-WE). Backplate and cover needs to be ordered seperatly.
- 2 Year Warranty
---
We Also Recommend