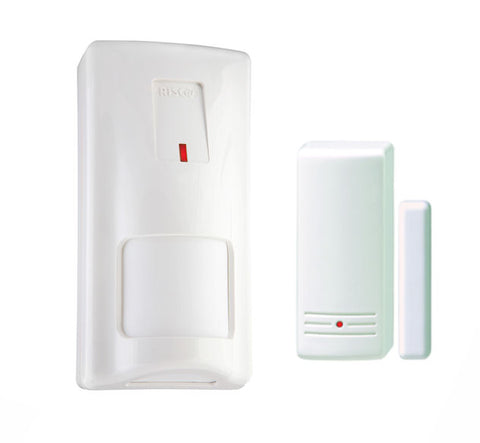 RISCO Detector kit with wireless DC & PIR KITDET332PIR2
Detector kit with wireless DC & PIR
Please note that this kit can only be purchased in conjuction with an Agility 3 panel and keypad kit, on a one to one basis.
Orders placed that do not include the panel and keypad kit will be rejected and any money paid will be refunded.
Dont forget to order your SOUNDER. 
  This kit includes:
Wireless iWISE PIR
- 15m wide-angle lens
- Creep zone for close-in detection
- Intelligent Digital Signal Processing
- Cover and wall corner tampers
- includes long-life 3v lithium battery
- Pet friendly models available with 8m coverage
- Pet friendly up to 36kg with Variable Pet Threshold
Door/Window Magnetic Contacts
- Includes input allowing wireless operation of a wired contact detector
- Defeats large magnets by signaling tamper
- Cover and wall tamper protection
- Includes long-life 3V lithium battery
---
We Also Recommend